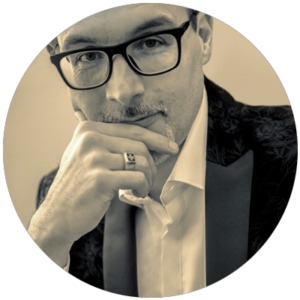 Gianni Candido was born in Belgium in 1972, from a Belgian mother and an Italian father. He got familiar with art and crafts at early age by learning antiques restoration and trade.
At the age of nineteen, he felt a strong inner call to leave his birthplace in the Ardennes to settle in Brussels to study journalism and cinema at Université Libre de Bruxelles.
After exploring different artistic disciplines, he finally focused on visual arts. This graphic media allows him to catch the audience and take it to a more personal journey.
During the 10 followings years and after getting spiritual initiations, he slowly shifted his focus from external forms to the inner realms of beauty, trying to create artwork that go beyond the material world, translating his imagination into images.
His series often attempt to explore different levels of consciousness and relate them to what we call the reality. Through representation of poetic and dreamy universes, he tries to put attention on the unseen beauty of our surroundings, exploring the way we approach materiality.
The use of traditional paintings techniques and new digital medias allows him to create a contemporary form of expression by playing with light, colors and textures.
In some ways, his technique is blurring the line between realism and abstraction.
In 2010, some of his artwork is sold by Pierre Bergé auctioneer giving him an official price on the international art market.
http://giannicandido.art/wp-content/uploads/2020/07/TPL-LOGO-GOOD-FINAL.jpg
0
0
admin3941
http://giannicandido.art/wp-content/uploads/2020/07/TPL-LOGO-GOOD-FINAL.jpg
admin3941
2018-12-30 17:05:25
2019-10-07 17:25:35
ARTIST BIO